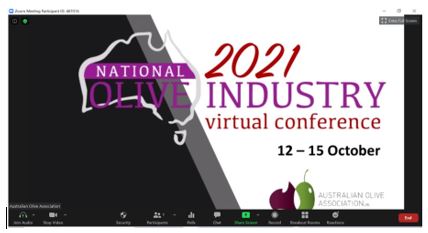 Registrations have now closed, so we hope you've all signed up for the 2021 AOA National Olive Industry Virtual Conference.
Starting in just a few hours, the event runs daily at 3:00-5:00pm (AEST) from today until Friday. The four interactive Zoom sessions will feature informative presentations from both industry and external experts, and you can ask questions and contribute comments live.
Here's a reminder of what's in store:
Tuesday, 12 October – The Big Picture (the economy, trade, export, local markets)
Wednesday, 13 October – Biosecurity (Xyllela, fruit fly, other threats)
Thursday, 14 October – Factors Influencing Olive Yields (frost, biennial bearing, canopy management)
Friday, 15 October – Olives & Olive Oil in Food – (table olives, cooking with olives, health and wellness)
That's a wealth of information to listen to, learn from and take into your business operations. Set yourself a reminder, grab a coffee and be in front of that screen around 2.55pm!
Australian International Olive Awards Virtual Gala Presentation
Finishing the event off is the industry 'night-of-nights', the much-anticipated 2021 Australian International Olive Awards Virtual Gala Presentation.
Following on from Friday's Conference session (after a break for frocking-up and beverage provision!), it runs from 5:30-7.00pm, with attendance again via Zoom. While not quite as social as a physical event, it will no doubt be just as exciting, as we celebrate the medal winners and then watch the big reveal of this year's major trophy winners.
Who will take the coveted Best in Show titles? You'll have to Zoom in to find out! Registration is officially closed but if you head to this link you can get a last-minute ticket. It's free, so sign up now and join in the celebrations.
Event sponsors: