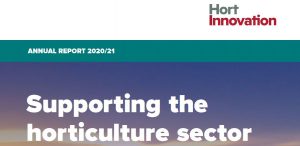 Hort Innovation has recently released its full company Annual Report for the 2020/21 financial year.
Each year the grower-owned, not-for-profit research and development corporation for Australian horticulture invests millions of dollars into critical R&D, extension, marketing and international trade initiatives, aiming to drive productivity, profitability and demand for growers and the sector at large.
The company invests statutory and voluntary levies on behalf of 37 horticulture industries, including through industry specific funds, and also invests in collaborative, whole-of-horticulture initiatives, including through Hort Frontiers strategic partnership work.
The Annual Report 2020/21 provides a snapshot of the activities and outcomes delivered across the year. It also demonstrates work towards delivering on the Hort Innovation Strategy 2019-2023, and in implementing the 'performance principles' at the foundation of the current funding agreement with the Australian Government.
The financial section includes the Director's Report for 2020/21 and the company's full financial report.
Download the 2020/21 Hort Innovation Annual Report here.