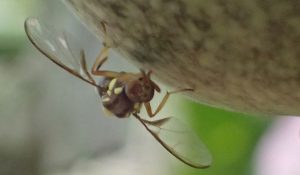 October is Biosecurity Month on Hort Innovation's social media channels, with their experts showcasing the latest research and development in biosecurity, as well as the investments being made on behalf of horticulture in areas of preparedness, early detection, and early management strategies.
For example, there's a video explaining hitchhiker pests with Dr Greg Chandler Head on their YouTube channel here and more information on their Facebook and page here.
With fruit fly season ramping up again, they've also issued a timely reminder about the importance of crop hygiene, and managing the host sources where Queensland fruit fly (Qfly) may be hiding.
Qfly is a serious pest for many crops, and last year caused significant issues for growers transporting their harvested olives across designated regions. Controlling it takes a collective effort: as growers, we should follow biosecurity best practice in our groves and also ensure we manage the risk of fruit fly in our backyards. Here's how:
destroy removed fruit
practice good hygiene and regular pest surveillance
using insect netting along with Qfly baits if actively using your fruit trees, and
remove abandoned host trees.
There's a range of resources on managing Qfly on the Department of Agriculture website here, and more information on the SITplus program to control fruit flies here.