TasteBook® Rounds 6&7
January 28 @ 8:00 am

-

February 29 @ 5:00 pm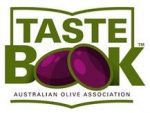 Kalamata and Flavoured Oils Focus
TasteBook® Rounds 6 and 7 will be a combined 'mega round' and will focus on Kalamata table olives and flavoured oils respectively, offering a veritable 'feast for the senses'.
Every participant will receive two packs of four Kalamata table olives samples and four bottles of flavoured oils, all from top Australian producers, providing a mega-tasting and learning experience in one delivery. These sample kits will be sent from 28 January 2020 to 15 February 2020.
The survey will need to be completed by 29 February 2020.
Both TasteBook® rounds are included in the cost: $40 levy payers, $50 non-levy payers, $50 international
Registrations close 7 February 2020
Register here
Click here for more details on TasteBook™ or contact Dr Soumi Paul Mukhopadhyay via email at soumi.paul.mukhopadhyay@dpi.nsw.gov.au.
TasteBook® is a sensory training initiative in appreciating, describing and understanding how to improve the quality of EVOO and table olives. It includes tasting of olive oils and table olives, assessing their characteristics, and providing feedback on the style, quality and uses of the sample products that aims to expose industry participants to regular sensory experiences and palate calibration for olive products, and to assist in gaining an understanding of how to achieve product excellence.
TasteBook® is open to any interested person to register. In particular, all national, state and regional competition judges and associate judges, trainee judges including young judges, olive growers and AOA Code of Practice Signatories (now rebranded as OliveCare®) are encouraged to participate.
TasteBook® Rounds are conducted online. Upon registration, participants (including family, friends and staff, if desired) are sent samples and detailed instructions and training materials are emailed. Participants use an online survey as part of their sensory assessment. A report on the survey results is then compiled and made available to participants. This report highlights any differences between the participants responses and the trainer's assessment of the oils, which provides feedback to participants on the quality of their own assessments.