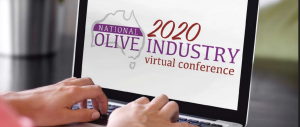 The AOA's National Olive Industry Conference is going online in 2020, following the postponement of the next physical event until October 2021.
Being held from Tuesday, 13 October to Friday, 16 October inclusive, this year's event will consist of four x two-hour afternoon sessions, running from 3-5pm (AEST) each day. Each session will have a theme covering one of the industry's current key topics: Soil management; Grove management; Olives & health; and Olive marketing.
AOA CEO Greg Seymour said the shorter online format has created an even greater focus on both relevance and participant involvement.
"There is a tremendous line-up of outstanding speakers, delivering content directly related to olive businesses," he said.
"The format has worked incredibly well for our productivity and profitability webinars, allowing participants to learn not only from the information presented but also from responses to other people's questions."
Online benefits
Seymour said that this year's necessary online format brings a number of benefits.
"One of the big positives about running it via remote technology is that it gives more people the opportunity to access the information," he said.
"For AOA members, it's literally a 'no-cost' attendance: there's no travel time or expenses, and no need to get the farm, dog or kids looked after. And you don't even need to worry about grove work backing up. We've scheduled the sessions from 3-5pm so that you can get a decent day's work done and then come inside and join in, all from the convenience of your own home."
AIOA Presentation
One constant element of the annual Conference is the Australian International Olive Awards (AIOA) Presentation, which this year will be held via Zoom from 5.30-7pm on Friday, 16 October.
"There'll be a short break to grab a beverage and snack, before we settle in to watch who won the big gongs for 2020. It's sure to be a great night, with the usual suspense and celebrations as the results unfold," Seymour said.
"We hope all industry members, friends and supporters will join us for this year's event, as we recognise and celebrate the achievements of the industry's best producers."
The 2020 Conference program and registration details will be available shortly on the OliveBiz website http://www.olivebiz.com.au.