THIS EVENT HAS CONCLUDED. PLEASE REFER TO OTHER STATES IF YOU WISH TO ATTEND A SIMILAR FIELD DAY.
Sunday 12 August 2018 commencing at 9.00 am (Full Day Program)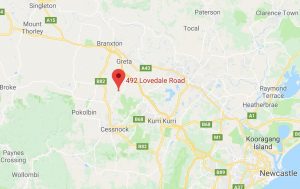 Adina Vineyard
https://www.adinavineyard.com.au
Address: Adina Vineyard and Olive Grove, 492 Lovedale Rd, Lovedale NSW 2325
Phone: (02) 4930 7473
Biosecurity Notice: Please follow all signage and instructions for entering the property including vehicle movement, parking, and plant hygiene.
Draft Program
08:30  Registration, refreshments
Registration charge – $35+GST (pre-paid via Eventbrite website. Includes refreshments, lunch, dinner, hand lens, field day presentation notebook).
09:00 Welcome, Housekeeping, and Overview of Field Day Program, Peter O'Meara, AOA President
09:20  Risk Management, Biosecurity, Continuous Improvement and Technical Support, Peter McFarlane, OliveCare® Administrator, and AOA Biosecurity Representative; Greg Seymour, Convenor, Olive Industry Risk and Crisis Management Committee:
Risk Management, Industry Risk and Crisis Management Plan;
Fostering Industry Biosecurity Threat Awareness and Preparedness;
OliveCare® Code of Best Practice;
Maintaining Producer Access to Registered Pesticides and 'Minor Use Permits' for use in Olive Groves.
 09:50  Q & A Session, Peter O'Meara, Michael Thomsett, Peter McFarlane, Greg Seymour
10:00  Grove Management Checklist in Support Of Healthy Trees And Implementation of an IPDM Program, Michael Thomsett, Horticultural Consultant and AOA Director, NSW
Irrigation;
Nutrition & Soil Health;
Pruning/ Tree Management.
10:45  Q & A Session, Michael Thomsett and Peter O'Meara
11:00  Product Quality improvement, Michael Thomsett and Peter McFarlane
Australian International Olive Awards and Regional Olive Competitions;
The Tastebook™ Sensory Training Program.
11:15 Market Development, Greg Seymour, AOA CEO, Chair of CAE Committee.
The Everyday Campaign
Industry Generic Promotions Programs
11:45  Q&A Session, Greg Seymour et al
12:00  Lunch Break
12:45  IPDM Plenary Session, Dr Robert-Spooner-Hart and Dr Len Tesoriero
Principles and practices of IPDM
Monitoring for pests, diseases and beneficial species
Biology and life cycles of key pests and diseases
Factors influencing pest and disease spread and incidence in groves
Strategies for conventional and organic management
Advantages and disadvantages of management strategies
Importance of timing, application and targeting of interventions.
14.45  IPM Field Activities, Dr Robert-Spooner-Hart and Dr Len Tesoriero
Grove walk and discussion
Insect identification
Disease identification
Grove management
16.00  Q & A Session, Dr Robert Spooner-Hart and Dr Len Tesoriero
Field day participants are invited to send images of insect or disease issues on their grove to Dr Spooner-Hart one week prior to the event. Feedback will be provided in a group Q&A session without identifying the senders of the images.
Questions will also be taken without notice on any aspect of pest and disease management from participants during this session.
16:30  Concluding Remarks and Close of Formal Sessions, Peter O'Meara
5:30pm  Post Field Day Networking Dinner
Field day participants are invited to join the field day speakers at an informal BBQ after the field day concludes. This function will provide an opportunity for participants to get one-on-one with the experts to discuss issues of relevance to their own groves and businesses.
8:00pm  Field Day Close
This field day is part of a national program in the project: An integrated pest and disease management extension program for the olive industry (OL17001). The project is funded by Hort Innovation, using the Hort Innovation olive industry research and development levy, and contributions from the Australian Government.
 Further Information:
Dr Robert Spooner-Hart
Project Leader r.spooner-hart@westernsydney.edu.au
Western Sydney University Phone +61245701429; Mobile 0414953129
 Elizabeth Bouzoudis, AOA Secretariat: 04 7860 6145, secretariat@australianolives.com.au
REGISTRATION FOR THIS EVENT IS NOW CLOSED