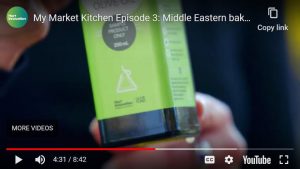 While face-to-face interactions have been off the agenda for the past few months, the Olive Wellness Institute (OWI) has continued to share the science and facts around the benefits of olive products across a range of other channels.
Gaining high-profile coverage, the OWI supported a recent edition of Channel 10's My Market Kitchen featuring Australian olive oil, providing both information and Olive Wellness Institute Australian Extra Virgin Olive Oil for a cooking session.
My Market Kitchen is a daily free-to-air TV program broadcast nationally on the metro Ten Network and the WIN Television Regional Network. Screening at 3.30-4pm Monday to Friday, and on 10play, the show promotes and celebrates Australian producers and products, inspiring viewers to enjoy local fresh produce every day.
Episode 3 saw Hort Innovation's Research and Development Manager, Dietitian and Nutritionist Jemma O'Hanlon, preparing a winter breakfast dish at the Prahran markets. Using EVOO as the cooking medium, she gave consumers some great information about the nutritional benefits of olive oil, it's suitability for frying, and how to identify high quality, fresh, Australian EVOO when you're shopping.
You can watch the segment and access the recipe for Vegetables and Middle Eastern baked eggs here.
Olive Wellness blog and published literature
They've also added to the cache of educational, evidence based literature with a range of new offerings including:
Olive Oil Systematic Literature Review – The 10 Key Findings: a high quality systematic literature review (SLR) report on olive oil and the Mediterranean diet, prepared by the Olive Wellness Institute and Nutrition Research Australia, providing healthcare professionals and subscribers with up to date, evidence-based olive science on the topic.
A Guide to Common Cooking Oils: recognising that choosing the right cooking oil for the right purpose can be confusing, this article takes a close look at the common culinary oils and the proper use of each one. It also covers the health concerns associated with cooking oils, particularly around the type of fats they contain.
You can access these and a wealth of other great resources on the Olive Wellness Institute website here.