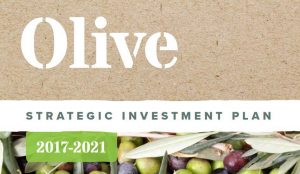 The 2021-2026 Strategic Investment Plans (or SIPs) will provide the roadmaps to guide Hort Innovation's investment of levies and Australian Government contributions, ensuring investment decisions are aligned with industry priorities.
In 2021, Hort Innovation will continue to engage with growers and industry stakeholders to develop a refreshed SIP for each industry within the horticulture sector. Following this engagement period, the draft SIPs will be made available for broad industry feedback and validation from May 2021.
Each industry-specific SIP will lay the foundation for decision making in levy investments, representing a balanced view of stakeholders from within the industry, helping Hort Innovation prioritise and implement relevant R&D and Marketing programs.
The finalised new SIPs will be available on the Hort Innovation website from July 2021. Stay tuned for updates in the monthly Grove Innovation newsletter.
Until then, you can access the current Olive SIP (2017-2021) here.
And if you have any questions, or would like to discuss the refreshed SIP for the olive industry, contact Industry Strategic Partner Dumisani Mhlanga on 0447 091 186 or email dumi.mhlanga@horticulture.com.au.