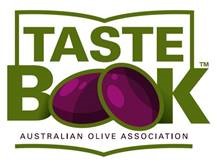 AN INVITATION TO OLIVE PRODUCERS, MARKETERS, FOOD SERVICE AND COMPETITION JUDGES TO REGISTER FOR PARTICIPATION IN TASTEBOOK™ ROUND 4
After three successful rounds of Tastebook™ the AOA Board has made a decision to implement a cost recovery charge for participation in Tastebook™ Round 4.
The following fee structure applies:
Domestic participants (prices include GST):
AOA Members: $25
Non Members: $30
International participants:
Note – Registrations will remain open until 20 August. 
Tastebook™ Round 4 samples and basic instructions will be posted to registered participants from the week commencing 6 August.
Detailed instructions and training materials will also be emailed to registered participants, with a link to the Tastebook™ Round 4 on-line Survey Monkey response form which will be 'live' from 6 August through to 3 September (4 weeks).
Note: Registered participants may share their tasting samples and experiences with family, friends and staff – simply submit a Survey Monkey return for each taster.
By way of an explanation for participants who have not previously been involved with Tastebook™, this is a sensory training initiative in appreciating, describing and understanding how to improve the quality of EVOO and table olives.
Tastebook™ includes tasting of olive oils and table olives (later on we plan to include flavoured olive oil and perhaps other olive products), assessing their characteristics, and providing feedback on the style, quality and uses of the sample products that aims to expose industry participants to regular sensory experiences and palate calibration for olive products, and to assist in gaining an understanding of how to achieve product excellence.
Tastebook™ aims to encourage a conversation on judging methodology and enables benchmarking of participant performance against senior judges.  Participants are also encouraged to benchmark their own products against the samples provided.
Tastebook™ is a component of a broader professional development platform for competition judges that will include Masterclasses for EVOO and table olive judging as well as annual refresher courses, and an expansion of the National Young Judges Program.
As with previous Tastebook™ rounds, a report on the survey results will be prepared by sensory scientist Soumi Paul Mukhopadhyay of DPI Wagga Wagga, for publication in AOA's Olive Grower & Processor magazine, and in Friday Olive Extracts.
Previous reports and training materials from Tastebook™ Rounds 1, 2 and 3 are available for review on the AOA website under 'Members Lounge' at: https://australianolives.com.au/tastebook/
Tastebook™ Round 1: December 2016, was a 'trial run' to sort out logistical issues, introduce the Tastebook™ team, and explore sensory analysis with Claudia Guilaume of Modern Olives, and an explanation of competition scoring and award criteria for both evoo and table olives.
Tastebook™ Round 2: June 2017, explored evoo judging methodology and descriptors with AIOA Senior evoo judge, and moderator for the Olives WA Tasting Panel Isabelle Okis.
Tastebook™ Round 3: May 2018, explored evoo judging methodology with Argentinian olive oil production and quality consultant, evoo sensory panel member and international evoo competition judge Pablo Canamasas; and with Australian table olive guru Professor Stan Kailis.  This round was a dream come true for Tastebook™  convenor and AIOA head judge Shane Cummins – with all 5 samples being Gold Award winners at the inaugural 2017 Australian International Olive Awards (AIOA); the challenge in this round was to find the best words and phrases that describe the magic of the genie in the jars and bottles.
Tastebook™ Round 4: August 2018, this round is more about definitions of attributes with a focus on 'green oils', rather than on descriptions as in round 3.  Not all samples will delight the palate!
Tastebook™ team members:
AIOA head EVOO judge & Tastebook™ Convenor, Shane Cummins of Long Paddock Olive Rustlers, NSW;
AIOA head TO judge, Dr Michelle Wirthensohn a Hort Innovation Australia Senior Research Fellow at the Plant Research Centre, University of Adelaide;
AIOA Senior EVOO judge, and moderator for the Olives WA Tasting Panel Isabelle Okis of Yaribelle Braes, WA;
Tastebook™ survey and reporting, Sensory Scientist Soumi Paul Mukhopadhyay from DPI Wagga Wagga, NSW; and
AOA OliveCare® Code of Best Practice Administrator and Tastebook™ logistics Peter McFarlane, Adelaide SA.
Looking forward to receiving confirmation of your participation in Tastebook™ Round 4.
Participants are also able to experience 'Tastebook™ Live' at the AOA National Conference, Wagga Wagga NSW on Saturday October 20, 2018.