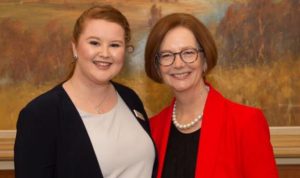 Scholarships valued at up to $10,941 per person are currently available to women who work in the horticulture sector, to support their participation in a leadership development program.
The grants have been allocated as part of a joint funding arrangement between Hort Innovation and Women & Leadership Australia (WLA) and cover up to 83% of the program fee for one of three part-time practical courses.
Participants will network with women peers from a variety of industries, and cover such topics as Reinforcing resilience and wellbeing, Re-wiring your networks, Evolving strategic change, Team dynamics and Supporting leadership performance.
These grants are allocated with the specific intent of providing powerful and effective development opportunities for women within the horticulture sector, from emerging leaders to mid-level managers and those with senior/executive level experience. The funding is available to those working in both levy and non-levy paying horticultural organisations, including wholesalers, distributors and research and development bodies. Both individuals and groups of employees within the sector are encouraged to apply.
Find out more and register your interest by completing the Expression of Interest form here prior to 2nd October. Interest has been strong so prompt registration is advised.​