Put Your Senses to Work
Learn how to recognise diverse flavour, aroma and taste attributes of Australian extra virgin olive oil and table olives and what sets the award winners apart from the rest.
A series of TasteBook™ and OliveCare® national workshops to be held across Australia
Dr Soumi Paul Mukhopadhyay, NSW DPI Sensory and Consumer Science Researcher and Peter McFarlane, OliveCare® administrator, are presenting a series of sensory training workshops for extra virgin olive oils (EVOO) and table olives (TO). The workshop program includes TasteBook™ sensory training using EVOO and table olives, olive oil chemistry, freshness testing of EVOO and determining objective best before dates (BBDs) plus so much more.
Guest speakers include:
South Australia 24/05/19: Dr Michelle Wirthensohn (Australian National Table Olive Head Judge and South Australian Table Olive Head Judge) and Trudie Michels (Event Convenor and Chief Steward of the Australian International Olive Awards).
Geelong 14/06/19, Wagga Wagga 30/06/19: Claudia Guillaume (General Manager, Laboratory and Quality Assurance, Boundary Bend Olives).
Wangaratta 16/06/19,  Shane Cummins, Head Judge, AIOA
Click here for bios of presenters.
Guest speakers for other workshops will be advised at a later date.
The workshop will benefit olive growers and processors, olive oil judges and anyone wishing to gain a better appreciation for EVOO and table olives.  These workshops will ensure that Australian olive products are consistently of superior quality and then to ensure that quality message is communicated from the paddock to the plate, by enabling growers, producers and consumers to talk about their sensory experiences in a shared language they are all comfortable with.
Cost = $40 inc GST levy payers, $50 inc GST non-levy payers.
For more details, contact Dr Soumi Paul Mukhopadhyay on 0409 283 581 or via email soumi.paul.mukhopadhyay@dpi.nsw.gov.au.
 Scroll below to register.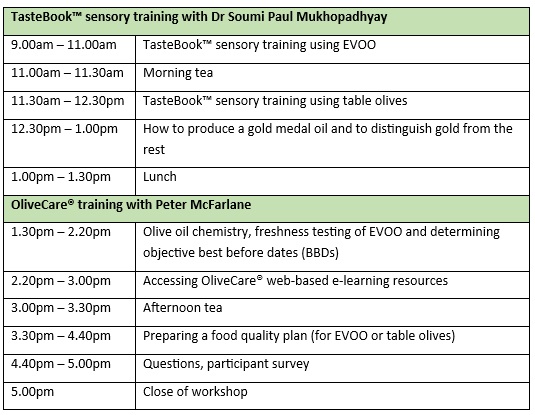 Click on the relevant location field below to register.
You will receive an invoice and email confirmation once you have finalised your order.
Sensory Training Workshops Schedule
Date (MM-DD-YYYY)
State
Address
05/24/2019
SA
The University of Adelaide, Plant Research Centre, Waite Campus, Gate 2B, Level 1, Meeting Rooms 1 & 2, Hartley Grove, Urrbrae
06/14/2019
VIC
Geelong Library, 51 Little Malop St, Geelong
06/16/2019
VIC
Charles Sturt University, Wangaratta Centre
218 Tone Road, Wangaratta
06/30/2019
NSW
NSW DPI, Pine Gully Road,
Wagga Wagga
08/01/2019
WA
Date and venue TBC
08/01/2019
WA
Date and venue TBC
09/20/2019
SA
The University of Adelaide, Mudla Wirra Road, Roseworthy
10/27/2019
NSW
Hunter Valley, venue TBC
11/01/2019
QLD
Date and venue TBC
11/01/2019
TAS
Date and venue TBC
11/01/2019
TAS
Date and venue TBC
This workshop program has been funded by Hort Innovation, using the Hort Innovation olive research and development levy, co-investment from the NSW Department of Primary Industries, the Australian Olive Association and contributions from the Australian Government. Hort Innovation is the grower-owned, not-for-profit research and development corporation for Australian horticulture.