Request for Extra Virgin Olive Oil
We are an established Health Supplement company in Melbourne with markets in Asia (Vietnam, China, Thailand, Myanmar… and expanding to others around), and has been known as a specialist for women and children's health (http://www.maxbiocare.com).
We are now launching our first range of baby food (organic) and would like to add Extra Virgin Olive Oil for baby to our range as soon as possible.
We would like to work with olive oil producers that would be willing to supply packed bottles of olive oil under our own name; or we can buy the material from them and organise packing ourselves. We prefer organic sources as our baby food range is certified organic by ACO.
Interested?
Contact Justin on justin.lau@maxbiocare.com.
---
Auction: COE C7 Olive/Prune harvesting unit
COE C7 Olive/Prune harvesting unit, purchased new by Goman Farming, low hours (under 1300). Always shedded and carefully maintained.
Includes spare (new) shaker head and spare tyre and rim.
Farm having been sold, owner retiring this machine along with many other items, which will be Auctioned on 29 July at Campbell Street, Darlington Point NSW.
Contact:
Rawlinson & Brown Pty Ltd
Stock, Station Agents and Auctioneers
50-56 Banna Avenue
Griffith NSW
Lawry Owers
M: 0428696871
E: lowers@rawbrown.com.au
Clearing Sale
Extensive Clearing sale at Campbell Street, Darlington Point NSW
Account Goman Farming and Goman Foods
Farm sold and businesses closing due to owners' retirement.
Huge range of farm equipment, food processing equipment and heavy haulage inventory
Feature items include COE C7 Olive/Prune harvester, tractors, 2 x Iveco Eurostar 500hp prime movers, 4 x 45' tri axle trailers, 2x 22000ltr LPG tanks, forklift trucks, stainless steel processing equipment and much more.
Check out on website http://www.rawbrown.com.au clearing sales
Rawlinson & Brown Pty Ltd
Stock, Station Agents and Auctioneers
50-56 Banna Ave Griffith NSW 2680
0269641933
Lawry Owers
Processing services
Three Bridges Olive Farm
Batch processing minimum 500 kg or co-mix share
Modern continuous line press
Reasonable rates subject to quantity
Centrally located at Yellingbo approx 1.5 hours east of Melbourne.
For bookings call Howard on 0419598905
---
Olives for sale
Jumbo Kalamata olives, ideal for green processing. Approximately 20-25 tonnes. Surplus to grower needs.
Green ready March-April. Located in Mildura, North-West Victoria.
Price negotiable.
Contact Helen on 0419 173 003.
---
For Sale: Oliomio 50 – 2009 model
Being sold due to upgrade, to make room for a new arrival with larger capacity.
Kept in immaculate condition and cleaned fanatically after each use.
This machine is perfect for an artisan producer and has in the past produced award-winning oils!
Details:
Oliomio 50 – 2009 model
482.1 hours on the metre
Three phase powered
Available ex-Melbourne, Australia
Price: $25,000 inc GST and cost to main Tasmanian port for freight, ONO
Interested?
Contact Jude Cazaly, Flinders Island Olives on 0363598464.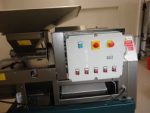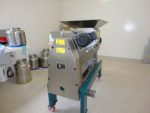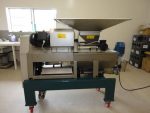 ---
For Sale: Table Olive Production Equipment
Equipment: Stainless steel olive hopper with elevator; Leaf blower; Belt sorter & size grader.
Price: $9,000 + GST
Pick up: Mornington Peninsula
Delivery: By arrangement
Contact: Penny Hart: 0414 238 158 or info@hartsfarm.com.au
---
Wanted to buy: 500 litre stainless steel conical tank
Strathbogie Ranges grower Dijana Cane is looking to purchase a 500 litre stainless steel conical tank, either new or second-hand.
If you have a spare you don't use, or excess that you'd like to get rid of, she's keen to hear from you and make a deal.
Please contact Dijana Cane on 0421136192 or olivesmarraweeny@gmail.com
---
FOR SALE
Polyphase converter
Used to process olives from 1000 trees. Good condition.
Price: $2,500. Purchaser to pick up from Bathurst, NSW or pay delivery costs.
Please email Sandy at sandytuckeraus@hotmail.com
---