06/10/2023
For Sale: Oliomio Olive Press
Oliomio 50
manufactured 2009
used 685 hours
excellent condition
price $20,000 ono
Located in Mudgee, NSW.
For more information please call 0436 031 060.
---
22/09/2023
OLIVE GROVE FOR SALE
Established Organic Olive Grove, Northern Tasmania. Three titles with Mersey River frontage and warm spring. Trout fishing and resident platypus. Two bedroom brick home. Mature fruit trees.
Offers over $650k. Serious buyers only. Phone Judi on 0407380885.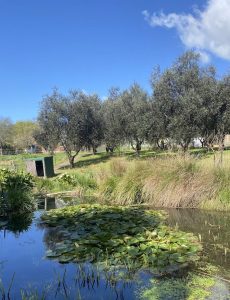 ---
08/09/2023
For Sale: Speedy Shaker
New hydraulic head 100hrs.
Motor and hydraulics serviced every second year, all in very good condition.
This would suit small grove.
Selling as retiring.
$55,000.00 ono
Contact Len: 0408 389 023
---
04/08/2023
2014 Sicma F3 140 Plus Harvester for Sale
One owner since new with only 2900 hours over 9 seasons.
Comes with removable cab door with lock & key.
LED light bar.
SA registered for road travel.
Equipped with a 5m base umbrella.
0.5m and 1.0m extensions to reach 6.0m and 7.0m diameter.
Extremely well maintained, returned to original condition before every season.
Regularly serviced and greased daily.
Engine serviced every 150 hours with fuel and oil filter replacements.
Hydraulic Pump update kit installed and new Vibration motor fitted.
Recently cleaned and filtered entire hydraulic system before replacing with new SHELL TELLUS S2 VX Grade oil for added peace of mind.
All receipts and invoices available.
Vibrating head reconditioned with new pins and bushes before 2023 season.
Umbrella catching frame sandblasted, primed and painted with industrial paint.
Every part cleaned and greased along with all new hardware for pins and moving parts for a smooth harvesting season.
Great honest and efficient machine in perfect mechanical order.
Extremely well looked after.
Price $165,000 ex GST – slightly negotiable.
Spare parts included in price of harvester.
Contact Ilias on 0448 199 762 or ilias@templehill.au
---