Wanted to buy: food grade EVOO for soap making
Church Farm General Store, a natural soap manufacturing business in northern NSW, is looking for a supplier of bulk Australian EVOO for use in our high quality natural soap.
We are after good quality, food grade olive oil (i.e. not pomace oil) and use approximately 150L EVOO per week.
Please contact Andrew Morris on 0422494429 or hello@churchfarmgeneralstore.com
---
For Sale: Oliomio 50 – 2009 model
Being sold due to upgrade, to make room for a new arrival with larger capacity.
Kept in immaculate condition and cleaned fanatically after each use.
This machine is perfect for an artisan producer and has in the past produced award-winning oils!
Details:
Oliomio 50 – 2009 model
482.1 hours on the metre
Three phase powered
Located in Tasmania, Australia
Price: $25,000 inc GST and cost to main Tasmanian port for freight, ONO
Interested?
Contact Jude Cazaly, Flinders Island Olives on 0363598464.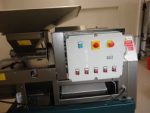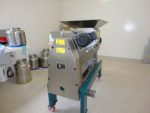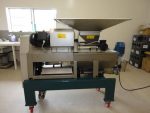 ---
For Sale: Table Olive Production Equipment
Equipment: Stainless steel olive hopper with elevator; Leaf blower; Belt sorter & size grader.
Price: $9,000 + GST
Pick up: Mornington Peninsula
Delivery: By arrangement
Contact: Penny Hart: 0414 238 158 or info@hartsfarm.com.au
---
Wanted to buy: 500 litre stainless steel conical tank
Strathbogie Ranges grower Dijana Cane is looking to purchase a 500 litre stainless steel conical tank, either new or second-hand.
If you have a spare you don't use, or excess that you'd like to get rid of, she's keen to hear from you and make a deal.
Please contact Dijana Cane on 0421136192 or olivesmarraweeny@gmail.com
---
FOR SALE
Polyphase converter
Used to process olives from 1000 trees. Good condition.
Price: $2,500. Purchaser to pick up from Bathurst, NSW or pay delivery costs.
Please email Sandy at sandytuckeraus@hotmail.com
---