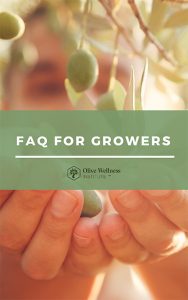 The Olive Wellness Institute's new Event Kit for olive growers will be "ready to go" for delegates at the 2018 AOA National Olive Industry Conference & Exhibition.
Part of the project Educating health professionals about Australian olive products (OL17002), a strategic levy investment by the Hort Innovation Olive Fund, the Olive Wellness InstituteTM (OWI), is an online information source providing easy access and reference to credible, evidence-based information on the health benefits of EVOO and olive products.
Created specifically for industry members, the Event Kit provides olive growers and processors with factual, user-friendly – and great looking – resources to take along and use at events or local farmers markets.
The resources include:
FAQ for Growers booklet, containing evidence-based facts and answers to questions commonly asked about EVOO

leaflets on the Health Benefits of Extra Virgin Olive Oil and Cooking with Extra Virgin Olive Oil

posters on EVOO and Olive Leaf
All are downloadable from the OWI website but to make life really easy, the OWI team will be having Event Kits printed and providing them "ready to go" to delegates at the Wagga Wagga Conference & Exhibition.
"We're aware that some people may not have access to high-quality printers, or the technical knowledge of how to change printing size or resolution to suit the product, so we thought it would be helpful to provide the hard copy resources," OWI Health & Nutrition Program Co-ordinator Abby Dolphin said.
"It's also a great opportunity for us to meet growers, and answer any questions they may have, when they come to collect them. We're keen to hear suggestions on other resources which they'd find useful too."
You can access the Event Kit at http://www.olivewellnessinstitute.org, under Resources, along with a wealth of other grower and consumer-related information.  Hard copies of the Event Kit resources are also available by order via postal delivery for those unable to attend the Conference.
To order your "ready to go" kit for Conference pick-up, email Abby Dolphin at a.dolphin@olivewellnessinstitute.org