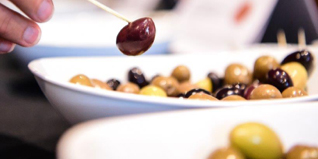 South African expert Linda Costa's table olive workshops at the 2018 and 2019 National Olive Industry Conferences were a hit, and left growers wanting even more … so she's heading back for a national workshop tour in February 2020.
Working with the AOA, Costa will deliver a full day program in each state, ensuring industry-wide access to her expertise. The program will cover all aspects of table olive production and marketing, from varietal options and processing methods to food safety and consumer demand.
Details
Workshop regions and dates are shown below, and venue details will be advised as they are confirmed. We'll update in the January edition of Grove Innovation, and post the full details on the OliveBiz website Events page – http://www.olivebiz.com.au.
Don't miss out!
Registration will open shortly via the OliveBiz events page. Numbers for each workshop are limited, so if you're thinking about going into table olives, or looking to improve your current production set-up, make sure you register early to secure your place.
The National Table Olive Workshops are part of the Olive levy project Australian olive industry communications and extension program (OL18000), funded by Hort Innovation, using the Hort Innovation olive research and development levy, co-investment from the Australian Olive Association and contributions from the Australian Government.