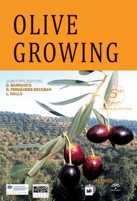 Considered by many as the 'Bible' on growing and caring for olive trees, the Olive Growing manual is now more user-friendly and accessible thanks to the creation of a Table of Contents.
Translated from the updated fifth edition of the Spanish El Cultivo Del Olivo, Olive Growing was developed by the Rural Industries Research Development Corporation and the Australian Olive Association (AOA). The 756-page technical manual is the definitive reference source for growers, processors, technical experts, students and anyone with an interest in growing this ancient tree – but to date has been a little difficult to navigate through.
"It's a fantastic reference but one of the things we've picked up over time is that it doesn't have a Table of Contents," AOA CEO Greg Seymour said.
"It's a big book, so that's made it a little time-consuming to hone in on a particular topic, or find exactly the information you're looking for.
"That's no longer a problem, as Hunter Valley grower Stephen Mitchell has prepared a comprehensive Table of Contents providing easy reference by chapter, topic and page.
"We've made it available on the AOA website, so if you've got the book already you can download and print off the Table of Content to insert at the front of the book. And if you haven't got it yet, you can go to the website, buy the book there and get the Table of Contents while you're there."
Get your copy
Download the Olive Growing Table of Contents here and for a free preview of the manual, download the preface, contents page and chapter one here.
A free copy of Olive Growing is included in all new AOA memberships – find out more here. Non-members can purchase the manual via the AOA's secure online shop for $165.00 AUD plus postage (plus GST for Australian orders).