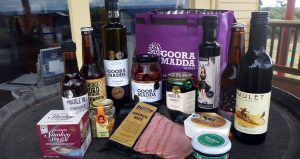 Healthy groves, healthy businesses is the theme of this year's AOA National Olive Industry Conference, and commercial viability is undoubtedly one of the bases of a healthy business. Value-adding is an avenue to achieving that viability, with farmgate sales increasingly recognised as an important part of the business mix.
Gooramadda Olives owner Rob Whyte runs a highly successful farmgate store and is sharing his experiences on what makes it work in his presentation Opening The Door To Grove Retail Sales during the Friday plenary program.
The key, he says, is creating an experience, rather than just a shop for your olive products.
"The number one thing for a small producer is that, as much as you want to be known for the quality of your products, what you are is a tourist attraction. So it's about working out what will appeal to the visitors, what will make you a must-visit location – fleshing out those other things which really make the experience," he said.
"We're in the Rutherglen wine region, so the natural thing for us was to leverage that and we've created a memorable experience with our olive and wine matching. We do it in a similar way to wine tasting but with oil and olives, using some of our neighbours' wines, so we're leveraging not just on the quality of our products but also taking advantage of the area we're in.
"We also value-add the choice with other unique and complementary products, with the key objective of being the best tasting experience in the region. That's something everyone can aspire to in their own way – for example, if your neighbour is a dairy and cheese producer, you can be doing cheese and olive tasting. Identify how your business fits into the region you're a part of and build on the synergies to create – again – 'the best experience.'
Whyte said he'll also discuss how to make farmgate sales work as a viable exercise from a personal perspective.
"Viability is not just a financial issue. The bottom line is setting up something that works for both your business and your lifestyle," he said.
"We made a decision last year to stop doing markets, on the grounds that you spend an awful lot of time getting ready, going, selling, bringing stock back, etc. The on-site store lets us make better use of our working time: we have sensors on the property so we know when people arrive and can go to greet them but we're maximising our labour, rather than sitting in the store chained to the counter.
"And my wife works full-time, so it's only me, and the choice to operate on weekends only is based purely on the fact that I can't be there all the time. Visitors want to be able to count on you, so we're always open on weekends, no matter what. If you can set realistic visitor expectations then you have satisfied customers as soon as they walk in the door."
Rob will also discuss more viable packaging options for very small producers, referencing Gooramadda's single label system utilising an over-printer.
There'll be food for thought for a many a grower in Rob's presentation, so don't miss out – register now for the 2019 National Olive Industry Conference & Exhibition, 17-19 October – Albury, NSW.