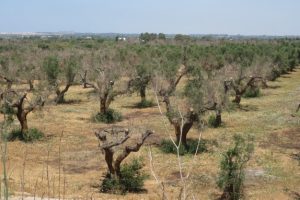 COVID-19 is not the only infection striking fear across the world, with news from Europe of the continuing spread of Xylella fastidiosa (aka olive quick decline disease). Since the initial outbreak in 2013, Xylella has now invaded 23,000 ha of olives in southern Italy and has also been found in a number of other countries.
Xylella is officially the #1 plant pest in Australia, with the potential to devastate both our industry and other vulnerable crops, so here's a timely update from National Xylella Co-ordinator and Manager of the National Xylella Preparedness Program Craig Elliott.
Transmission risk
"COVID-19 has focused the general community on personal hygiene and the processes of lowering the risk of the spread of that coronavirus, as well as the 'R' factor to show the rate of transmission. These lessons and principles apply equally to protecting your olive groves and Xylella is one of the biggest risks we have.
"Research and modelling of the situation in Italy has just identified that the rate of transmission from a symptomatic infected tree is likely to be 19 new infected trees each year. This is part of the reason that early detection and a rapid response to infection is critical to stop the spread, which is caused primarily through insect vectors.
"Hort Innovation is co-funding research into insects in Australia that may act as vectors. Led by Agriculture Victoria, with input from NSW Department of Primary Industries, it's an international effort with support from Plant & Food Research NZ, the University of California and the Universidad Politecnica de Madrid. The project will involve surveillance across three sites, along with glasshouse trials to see how effective different xylem-feeding insects are at transmitting bacteria.
Growers: act now
"For Australian olive growers, it's critical that you act as if Xylella is already here. You need to have good biosecurity practices in place now to ensure all plant and organic material entering your property is pest and disease-free; that all people, equipment and machinery undergo decontamination; and that you undertake regular inspections of your trees to check for any signs of unusual pests or diseases.
"Remember, there's no cure available for Xylella fastidiosa infection, so early detection and response are critical for successful containment and eradication."
Read the epidemiology research here and find out more about Xylella fastidiosa on the Department of Agriculture website here.