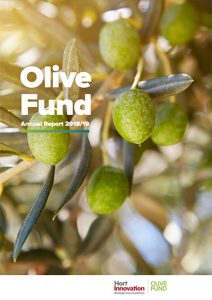 Do you want to know how your levy was invested in 2018/19? Download a copy of your Hort Innovation Olive Fund Annual report to find out what your levy dollars were used for, and the projects they contributed to, during the most recent financial year.
The suite of Hort Innovation 2018/19 Fund Annual Reports was recently released, with each industry-specific report providing key investment and project information involving the relevant levy fund over the previous year. All are now available to download from http://www.horticulture.com.au/annual-report-portal, where you can also access a copy of the Hort Innovation 2018/19 Company Annual Report.
Detailing activities and highlights across the company's entire portfolio of work, the Company Annual Report provides a top-level overview of Hort Innovation's key activities and achievements during 2018/19.
The latest highlights a big year for Australian horticulture: some $56.8 million was collected in levies and Hort Innovation invested more than $122 million in levy, government, co-investment and grant dollars across 2018/19.
Access the report
The Olive Fund Annual Report is available online to download now. If you prefer to read a hard copy of your Fund Annual report, you can request one for free by emailing communications@horticulture.com.au, detailing the report you'd like to receive and your mailing address.  Please note that hard copies are available only while stocks last.