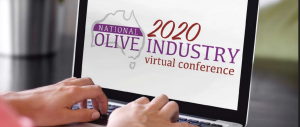 The 2020 AOA National Olive Industry Virtual Conference was a resounding success, with strong registrations for all of the sessions.
Held over four days in October, the highly informative, interactive afternoon sessions were abuzz with information, questions and answers, with enthusiastic discussion pushing several well over schedule.
There was a lot to take in during the two-hour sessions, so each was recorded live and is now available to watch online. Housed on the industry's OliveBiz website, they're accessible at your convenience, providing a chance to re-visit and catch up on anything which was missed or that you'd like to look into further.
Recording links
Conference registrants can access the conference recording links here. You will be asked for a password for each video: these have been emailed individually to each registrant.
You can also access the recording link to the 2020 Australian International Olive Awards Gala Virtual Presentation here (no password required).
Couldn't attend the conference?
The recordings are currently available only to those who registered for the conference, however those who were unable to attend can resister now to access the links.
Please note that, as with the Conference, registration is free for AOA members and there is a charge for non-AOA members of $33 per day/session or $100 for access to all days.
Register here.
Sponsors: support the businesses who support your industry
The success of the event was also due to the generous contributions and support of the session sponsors. Each offers valuable, high quality services and/or information to the industry, so please return their support when you're sourcing services for your business throughout the year. Use the links below to find out more and make contact:
Australian Organics Recycling Association – https://www.aora.org.au/
Olivegrower & Processor – https://olivebiz.com.au/magazines/olivegrower/
Olive Wellness Institute – https://olivewellnessinstitute.org/
Modern Olives – https://www.modernolives.com.au/
NSW Department of Primary Industries – https://www.dpi.nsw.gov.au/about-us/services/laboratory-services/olive-oil-testing
2021 AOA National Olive Conference and Exhibition
The 2021 AOA National Olive Conference and Exhibition will be a face-to-face event, scheduled for Friday-Sunday, 15-17 October in Devonport, Tasmania.
Lock the dates into your calendars and we'll bring you further details as they're announced in the new year.