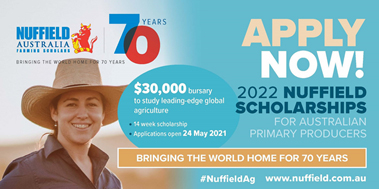 Applications are now open for scholarships that give Australian primary producers a global perspective to learn, grow and remain competitive.
Nuffield Australia Scholarships let producers see leading and innovative businesses across the globe, to find ideas and forge connections that can improve value chains.
Nuffield Scholarships are open to farmers, fishers and those in associated industries aged between 28-45, and no tertiary education qualifications are required. Each scholar receives a $30,000 bursary to spend on 14 weeks of travel over 18 months to study a topic important to the industry, with up to 20 scholarships available this year.
COVID considerations
This year's program has been tailored to allow recipients to navigate the global uncertainty and make the most of being part of the world's most influential agricultural network. There is greater access to online learning, including virtual connections to the global alumni network – 485 in Australia and 1,850 worldwide – as well as other agribusiness leaders.
In addition, if COVID-19 travel restrictions continue the travel component will be rescheduled or rolled over to extended timelines.
Farm Biosecurity scholarship
The Farm Biosecurity Program, run by PHA and Animal Health Australia, is supporting a scholarship for a primary producer to study a topic relevant to on-farm biosecurity.
In particular, young farmers with a desire to improve uptake of on-farm biosecurity, and drive their knowledge and businesses forward, are urged to consider applying. In addition to applications related to on-farm biosecurity, research topics on adult education or technical developments that could help producers manage an aspect of on-farm biosecurity will also be considered.
Find out more and apply here.