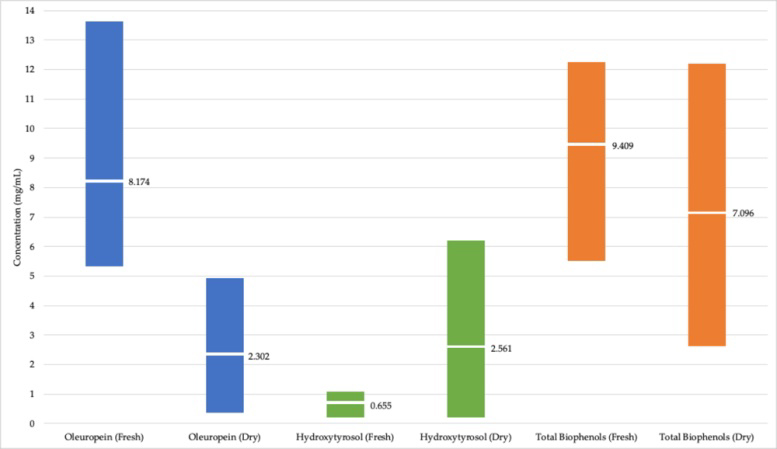 Olive tree leaves have been used medicinally for hundreds of years and olive leaf extract (OLE) is an increasingly popular preventative and natural health product.  Aiming to improve the appropriate selection of available products, new research has provided an evaluation and comparison of the chemical profile of a range of OLE products on the Australian market.
Background
Oleuropein, heart health and immune support: human studies on OLE for blood pressure control, insulin sensitivity and respiratory infections have utilised preparations standardised between 51-136mg of oleuropein per daily dose, with the studies demonstrating positive cardiovascular effects employing preparations with 100mg oleuropein or more per day.
Generally presented in a liquid form, a variety of OLE products are currently available in Australia, both over-the-counter and for clinical dispensing by health professionals.
Consumers or healthcare professionals typically select an OLE product based on label specifications, however it can be difficult to compare products or determine key quality identifiers as not all products provide the same information on the pack. It can also be difficult to assess what aspects of the label and product would best identify a high quality and potent OLE brand.
The new study, funded by The Olive Wellness Institute and published in the journal Molecules, was therefore conducted to benchmark the products available in Australia. It is the first published research to quantitively compare phytochemical profiles of both over-the-counter OLE products and OLE products dispensed by health professionals in Australia, providing key insights into how to best select a high quality and adequately potent OLE product and brand.
Method
Ten liquid OLE products (five over-the-counter and five for practitioner dispensing) were analysed for oleuropein, hydroxytyrosol, oleacein, oleocanthal, total biophenols, maslinic acid, and oleanolic acid content.
Results
The researchers found there was a substantial variation in the phytochemical profiles of the 10 OLE products tested.
Only two over-the-counter options provided more than 100mg oleuropein per day. Surprisingly, all of the purportedly higher strength practitioner-only products provided less than 51mg oleuropein per day at the maximum recommended dose.
Most of the over-the-counter products used fresh olive leaves, resulting in an average 3.5 times the oleuropein level of professionally dispensed products. Fresh leaf extracts tend to be more naturally produced, whereas dry leaf extracts require alcohol and solvents to extract the bioactive compounds.
"Products made with fresh olive leaf were shown to have higher Oleuropein and generally lower hydroxytyrosol levels compared to extracts made from dry leaf, indicating that in the dry leaf products much of the oleuropein had broken down," lead researcher Ian Breakspear said.
Key findings
there was a significant difference in the phytochemical profile of OLE in different products
there was a 35-fold variation between the products with the lowest and highest levels of oleuropein, and an almost five-fold variation in total biophenols
practitioner-only products were not necessarily stronger than over-the-counter products, and did not make label statements as to the content of any bioactives
OLE made from fresh leaves tends to have higher oleuropein levels and lower hydroxytyrosol levels that products made from dried leaves.
Labels matter
Olive Wellness Institute General Manager Sarah Gray said the findings are a great reminder for consumers to always read the label when choosing a product.
"What the research reveals is that not all olive leaf extracts are created equal," she said.
"Consumers and healthcare professionals looking for an olive leaf extract with high levels of oleuropein for heart health and immune support should opt for extracts clearly stating that they are made from fresh olive leaves."
Read more and access the full research paper on the OWI website here.
The study was led by Ian Breakspear, Senior Lecturer in Naturopathic Medicine at Endeavour College of Natural Health, in collaboration with Modern Olives laboratory, and was funded by the Olive Wellness Institute.