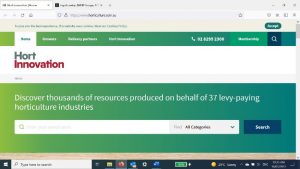 The Hort Innovation website now features a new search block on its homepage, aiming to encourage users to find content via a content search.
The search results page now also provides four filter tabs to help refine the results you want to see. The tabs are based on the most popular content on the website:
All results
Projects & final reports – now all located together so that you can filter and find what you are looking for
Grower resources – a list of the project outputs produced for all industries
News & media – media releases and articles.
You can also further refine results by Industry, Subject Area, Business area and Content type.
Feedback invited
The Hort Innovation team are keen for your feedback on the new search capability so they can continue to optimise and fine-tune its functionality. Take a look and send an email to communications@horticulture.com.au with your feedback, good or bad. They'd particularly like to hear if you've been unable to find anything.
Click through to the website here and try it out!