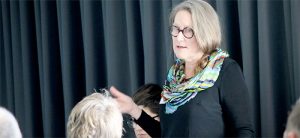 One of the biggest challenges facing Australian horticulture is the capacity, or lack of, for horticulture professionals to gain new skills to enhance and ensure their future success in the industry. It stops start-ups from getting off the ground, limits long established businesses from evolving with a contemporary market, and creates problems with succession plans when it comes to passing the baton. One of the great new ways this is being addressed is the Masterclass in Horticultural Business.
Launched in 2017, the course, delivered mostly online, has been developed by the University of Tasmania in conjunction with other horticulture education leaders, Lincoln University (New Zealand) and the Wageningen Research Academy (Netherlands), with funding support from Hort Innovation. It focuses on developing students' capabilities in areas such as financial management and law, horticulture marketing, people and culture management, business development and strategy, entrepreneurship, and many more.
To allow the course to best address individual needs and situations, it is based around the development of each student's personal business plan. Upon completion of the program, students present their business plan to a panel of experts from both the education and professional sector. This means they leave the experience armed not only with the knowledge to take their career further, but with a fully realised pathway for the future ahead.
The course can be completed full-time within ten months (but now accepts part-time enrolments) and is designed to be undertaken in a flexible way so that students can maintain their professional life while completing the program. There are also several face-to-face weekend workshops and on-farm experiences where students can learn from some of the very best in the business, with many of Australia's current industry leaders involved in the program.
Students have so far come from across the entire range of horticulture industries – something Course Director Associate Professor Alistair Gracie, of the University of Tasmania, thinks holds great value.
"Every year, we hear how students – often, to their surprise – have learned so much from exploring how similar issues are faced across industries, and from seeing how they are addressed in different contexts," he said.
"That comes not only from getting to meet some of the industry's big names, but from the friendships and experiences they have with other students, who have all come from very different backgrounds. Often in horticulture there isn't much opportunity for the different industries to connect and learn from each other, and I think that's a really wonderful aspect of this program."
Victorian olive grower Rita Bikins, of Red Rock Olives, completed the program last year and agrees.
"The masterclass allowed us to have insights into industries other than our own. The cross pollination of working practices was very valuable," she said.
Who can apply?
Students don't need any previous education qualification in order to be accepted into the Masterclass, with successful applications granted on the basis of professional experience and aptitude.
"We've had such a wonderful mix of people go on this journey with us," says Alistair.
"We've had veteran business owners next to fresh young talent – people who have been in the game all their lives beside people who are trying to get in the game. We developed the program to be tailored to the whole range of situations where the development of business skills for the Australian horticulture industry is needed, and to see such diversity in the cohorts has been incredibly rewarding."
Applications close soon – enquire now!
The 2020 Masterclass starts mid-February, with applications being accepted until midnight, January 17. If you're wondering whether the Masterclass is right for your situation, the University of Tasmania can chat to you about your needs and how, or if, the Masterclass can help.