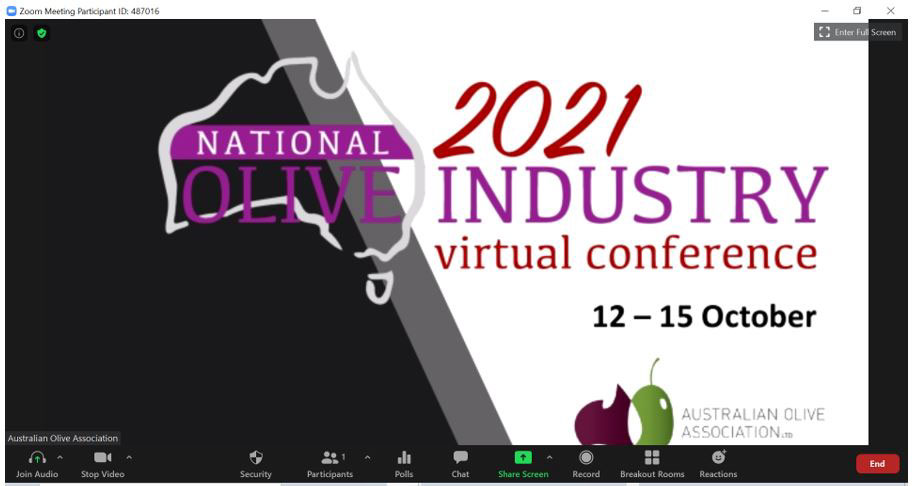 We were all pretty excited about getting together again in Devonport, Tasmania for the 2021 Australian National Olive Conference & Exhibition, having missed out on the annual face-to-face catch-up following the postponement of the 2020 event due to COVID-19 restrictions.
Unfortunately, COVID-19 is still a thing this year, and so are lockdowns and restrictions, so the AOA's organising committee has made the practical decision to move to an online event for the second year running.
Given the popularity of last year's virtual conference format, this year's will run to a similar schedule: two-hour sessions held over four consecutive days, running mid-afternoon from 3-5pm (AEST) each day. This allows delegates to complete a decent day's work before sitting down for the sessions.
Each session will feature informative presentations from experts from within and outside the industry, discussing key issues that impact olive businesses. The interactive online format will provide delegates with the chance to ask questions and contribute comments live.
When
The 2021 AOA National Olive Industry Virtual Conference will run from Tuesday, 12 October to Friday, 15 October inclusive.
Draft program
Tuesday, 12 October – The Big Picture: the economy, trade, export, local markets
Wednesday, 13 October – Biosecurity: Xyllela, fruit fly, other threats
Thursday, 14 October – Factors Influencing Olive Yields: frost, biennial bearing, canopy management
Friday, 15 October – Olives & Olive Oil in Food: table olives, cooking with olives, health and wellness
**Followed at 5.30pm by AIOA Virtual Gala Presentation
Note: All tickets already purchased for the Devonport conference will be refunded. Full program details and registration options will be made available soon.
Save the dates – we'll bring you more information in the September edition of Grove Innovation.