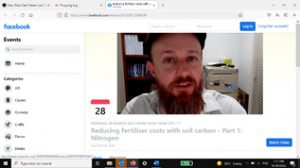 Soil scientist John Barton is well known to many olive growers through his dynamic presentations at the AOA's National Conference and Healthy Soils Field Days. More recently, the soil and composting guru has tackled a timely topic via a free webinar looking at reducing fertilizer costs with soil carbon.
The session worked through the causes of currently high fertiliser prices, the way that fertilisers work in soils and plants, and how building functional soils with soil carbon can significantly increase the efficiency of fertilisers. This allows you to cut back fertiliser rates, while getting the benefits of improved soils.
While backed up by serious science, John focuses on providing information in a simple way, linked to real world practical methods that can be used on any type of farm big or small, conventional or organic. He obviously hits the right spot with farmers, as the scheduled hour-long session ran into an extended Q&A session while he provided detailed answers to participant's questions.
For those who weren't able to join the 23 March Facebook live event, the session was recorded and the video is now available to view online (again free, and no Facebook account needed).
This is a great opportunity to learn from an expert in the field and gain invaluable information to improve your grove health, fruit production and the viability of your business.
Access the recording here.